Sneed Yacht Charters.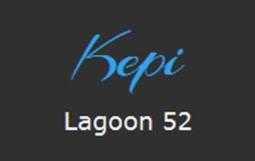 KEPI GUESTS COMMENTS
Charter 07/07-14/7/2018
I just wanted to let you know that our client was very pleased with the yacht and the service offered.

Thanks for sending back a happy client.

Kind regards
Paul
Charter 23/7-30/7/2016
Hello Multihull Yachting TeamIt is about time that I got some manners and shared my thoughts with your team.The service received from the Multihull Yachting most definitely exceeded my best expectations. The skipper, Andreas, and the hostess, Lina deserve the highest praise. Their service was first class and without a single blemish. They effortlessly became part of our family. Their knowledge, attention to detail, guidance, empathy, friendliness, professionalism and integrity was of the highest order. You definitely have a world class service and quality staff in name of Andreas and Lina. I couldn't imagine booking again without insisting on the service of Andreas and Lina.Thanks again to your professional team for making our holiday so full of joy and specially memorable. I have provided some photo images in this email with more to follow and some video also.

Yours Truly,
Piter M.
July 2014 Charter from Russia
It was my first, and I know, my best experience. Because, wow, my standards are very high! Bravo! Thank you for the job, well done!
Simona, Misha & Yelena

July 2014, Charter from Italy, Monaco
We have spent some fantastic days on this boat. Thank you for always being so kind to us and patient with the children. The visit of the Greek islands will be a memory for life! We have really enjoyed your delicious meals Cleo!

I loved this holiday, it was very very very very very very good!!
Alessia (9)
Thank you!!
Matteo (7)
I have been having the best, awesomest, coolest holiday ever!! :)
Emilia (12)

July 2014 Charter from Sweden
Thank you soooo much for the amazing food, good navigation skills and the great company. We will miss you, hope to see you again!
Love, Johanna & Emma
July 2014 Charter from Sweden
Thank you so much for an amazing trip.Everything was absolutely great! Gonna miss you!!
Ellen & Marcus

July 2014 Charter from Sweden
Sorry for stealing your cabin and wetting your bed with seawater!:)
Thanks for the great days and all the amazing food!
Oskar

July 2014 Charter from Sweden
What a team you are!! We have had a fabulous, outstanding week! Good sailing, great food, etc etc...We think we have gotten the sailing-disease! Look forward to sail with you again!
Lena and Yrgen

July 2014, Charter from Italy, Monaco
Thank you for a wonderful week and making us feel so welcome. We really appreciated the delicious food, beautiful scenery and great company. Hope to see you again next year!
Anne & Elio

June Charter from Switzerland
Thank you so much for the wonderful time we had together at Kepi.
I wish you health and happiness for your life!
Virginia

June Charter from Switzerland
(Translated from French)
There is the "Taverna Unique" Kolona and they are "the only crew"!
They are full of professional competence, for their kindness,
by their dedication and warmth. We believe they are doomed to bright futures.
Thank you,
Marlyse & Franois
Kepi Charter July 2014
Pics from recent charter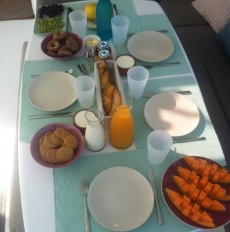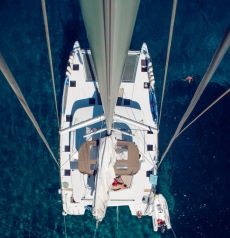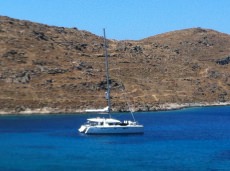 Kepi Charter June 2014 Greece
Water Fun on Kepi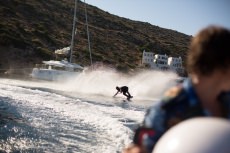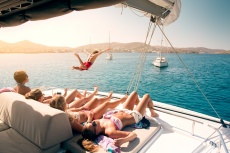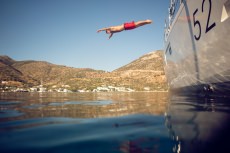 June Kepi Charter - Greece
Lots of fun in the water this summer!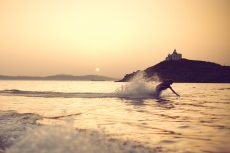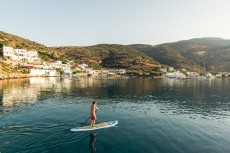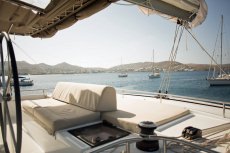 June 2014 Charter Greece
More great food pics from Kepi's last charter - Greece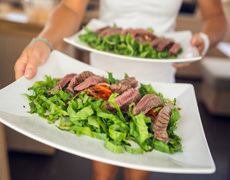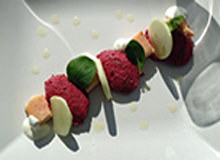 May 31 - June 7 2014
Thank you so much for making our vacation experience something to remember for a lifetime! We will forever take home the fondest memories of Kepi and you!
Randy & Tamby
May 31 - June 7 2014
Thank you for such an amazing vacation. We will always remember you both and look back on this awesome trip. The food was excellent and your company was great.
Much love, Mark & Heather

May 31 - June 7 2014
Thank you for the most amazing vacation of a lifetime! We will look back on this trip forever with the best memories. Thank you for the wonderful sailing and delicious meals, everything was perfect!!
Jennifer & Larry

May 31 - June 7 2014
Thank you for your fabulous hospitality! This was a trip of a lifetime for all of us. The accommodations were perfect and the food was out of this world!! The sailing was fantastic; Both of you blended so well with our group and you made us feel so very welcome!
Brad & Christy

Sneed Yacht Charters.