Sneed Yacht Charters.


GET ALONG GUESTS COMMENTS
February 2023
Kara and Sy made our trip the vacation of a lifetime! They were very welcoming and flexible, offering us many different options for activities and locations to visit. Every night was spent in a beautiful spot where they pointed out the best snorkeling, hiking, or on-island shopping and restaurants -- they even accompanied us on those activities whenever we wanted. The food was amazing. Kara made sure we had snacks all day, and healthy meals, while Sy kept our drinks full. Every morning started with a fruit platter and coffee. I was a little nervous about the trip being awkward, as it was with co-workers that I didn't really know, but by the second day we all felt like family, in large part due to Kara and Sy's ability to make everyone feel comfortable and welcome. I was impressed with their ability to keep us safe, and let us have fun, while making sure the boat was taken care of. The were a great couple, and a pleasure to spend the week with!
February 2023
Kara and Sy were so fun, laid-back, gracious, and hospitable. On top of all of that they were extremely knowledgeable about sailing, caring for the ship, and the local culture and people. They carefully planned our itinerary, but gave our group lots of flexibility to do the activities we enjoyed. My husband and I are vegetarian and Kara enthusiastically created delicious meals for us all week. We never felt like an afterthought. We also enjoyed fresh, local fruits and vegetables and delicious cocktails every day. We thoroughly enjoyed our trip. Sailing with Sy and Kara felt like being hosted at your friends' home. We had the best time.
February 2023
Sy and Kara were very attentive to all guests on the charter. They went above and beyond to ensure everyone was comfortable and lacking nothing. For those guests content with relaxing, drink requests were continuously fulfilled. For more active guests, accommodations were made for continuous activities i.e., snorkeling, hiking, shopping, beach activities, fishing. Additional efforts were made to fulfill guests interested in learning/honing sailboat/crew activities. Special consideration for mitigating sea sickness was always a priority and appreciated by all. The food…the food was absolutely delightful, some of the most interesting recipes. The creativity and improvisation made every meal, appetizer and snack like opening a present. The personalized attention to individual diet and palate for every dish made for smiles all around. All in all, we highly recommend Sy and Kara for a truly enjoyable Virgin Islands sailing escape.
January 2023
Our overall impression with our charter experience with the Hubert's was a world class, curated experience with unexpected culinary excellence, unparalleled attention to detail, excellent service and focus on the maintenance and cleanliness of the galley, deck space, joint living areas and individual guest accommodations was impeccable. As global travelers, our three-couple' guest experience was off the charts. The Hubert's not only provided a remarkable experience but they focused the trip for both the group and the individual needs of our guests. The Hubert's responded to guest' needs proactively and without request. Service quality was their top objective however we must note that the beauty and quality of the food, drinks and entertainment was an expected surprise that took the overall experience to another level. Another point of distinction of our experience, is the Hubert's local knowledge of the area and regional history perspective which was another fabulous addition to our experience. They also dialed into our preferences and created stops, tours and hikes tailored to our personalities. They went consistently above and beyond to ensure each guest had what they needed at each turn of our trip. We cannot wait to tour again with the Huberts.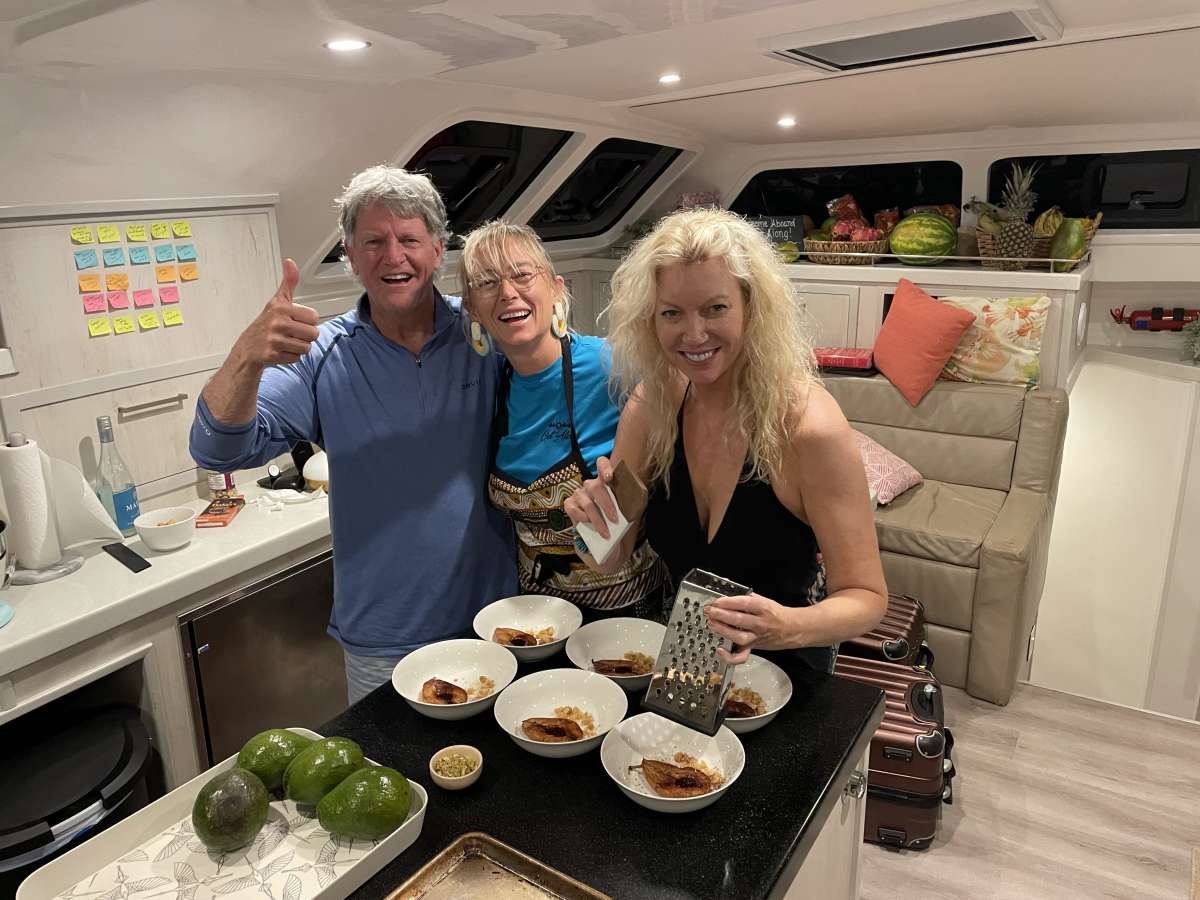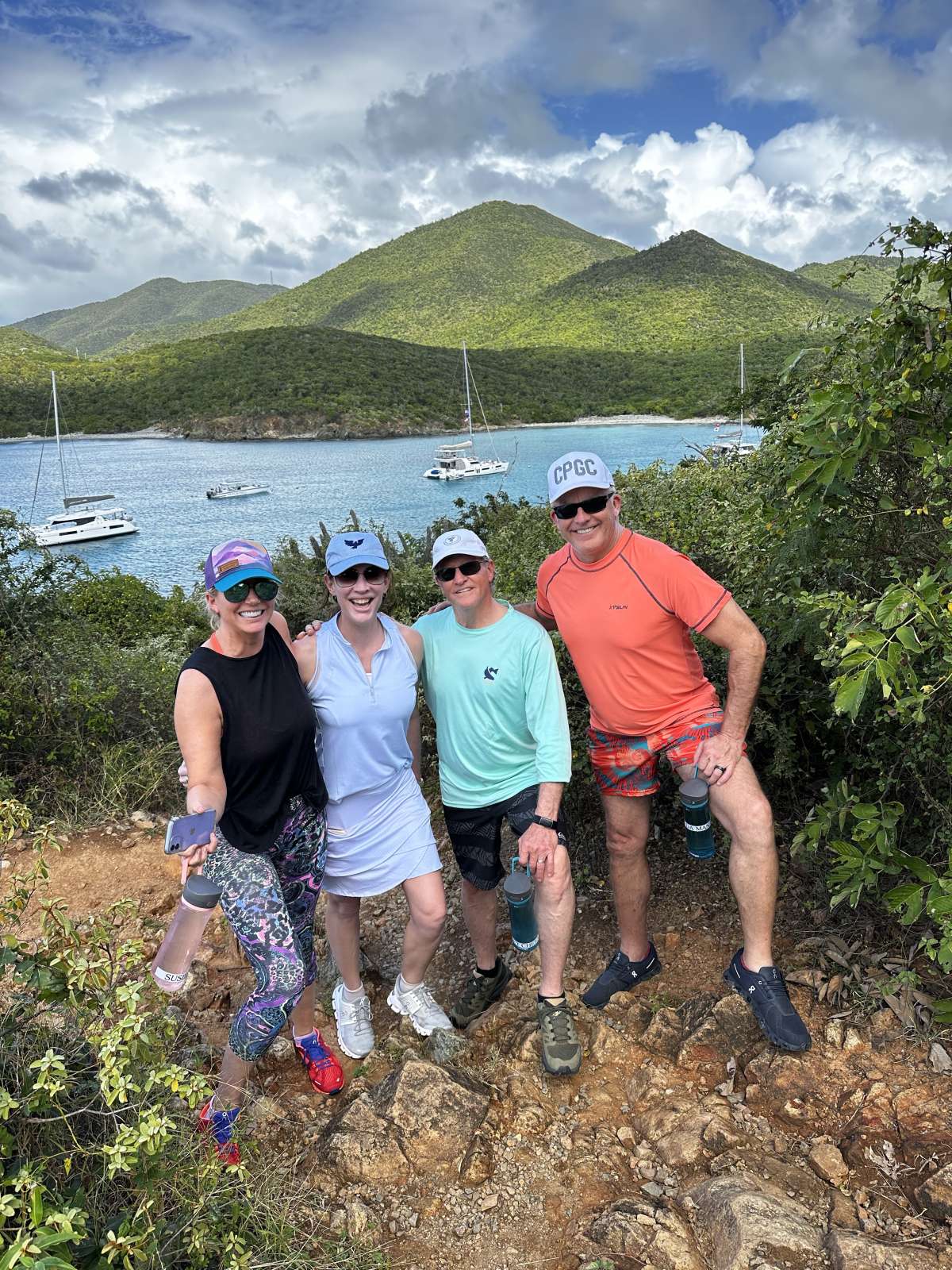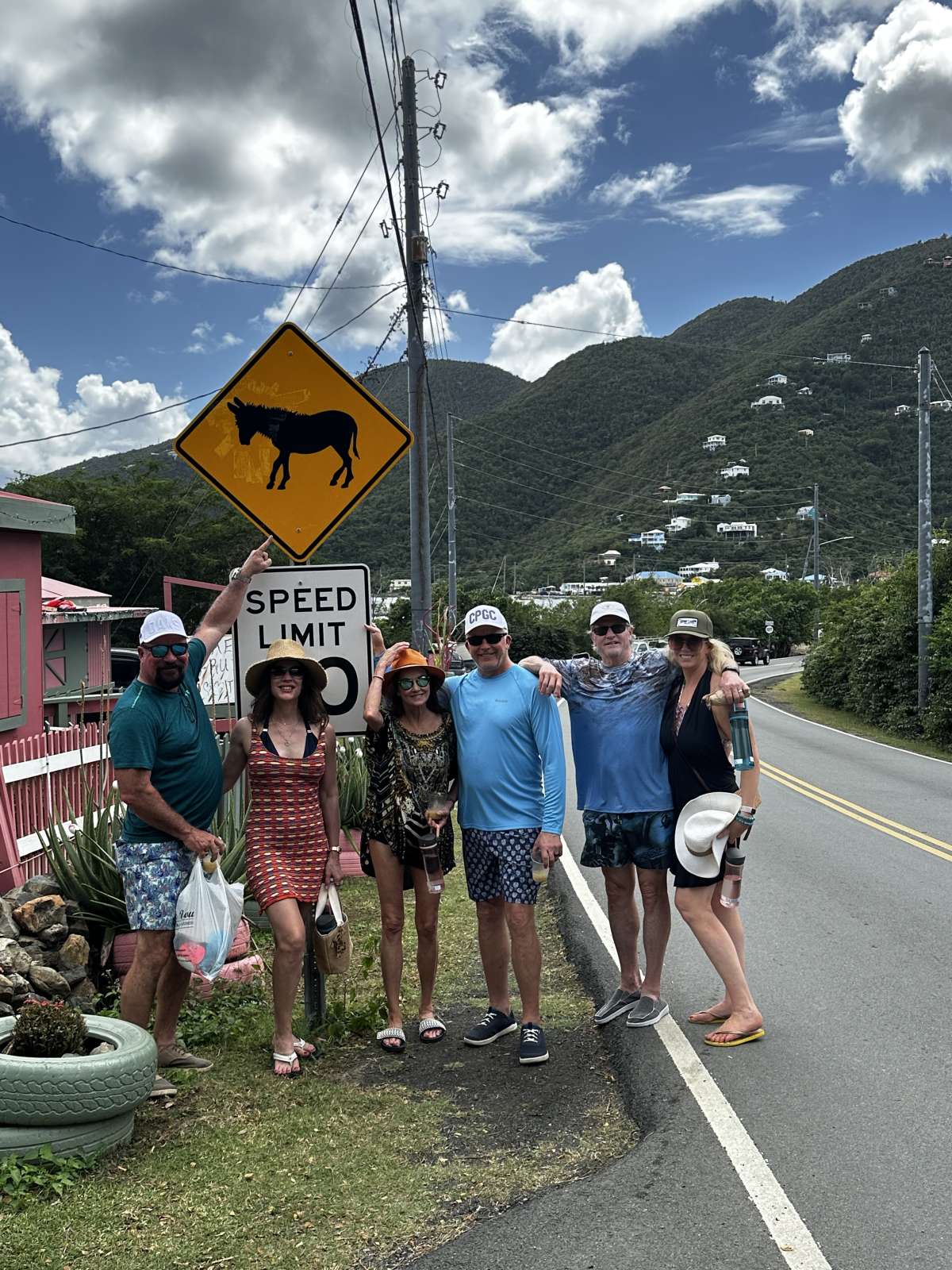 January 2023
This was the best experience and charter I've been on. The hospitality was amazing! Sy and Kara were accommodating, professional, informative, easy to be around and fun! The boat was always clean, no easy feat with our group, and the food was AMAZING, best chicken piccata and paella I've ever had!!!
SY & KARA
Name: Mike
Yacht: Easir II with Sy Hubert & Kara Bellemente
Charter Dates: 05/20/2021 to 05/26/2021
Area Cruised: St. Thomas - USVI
Overall Rating: 5/5

1. Was the crew friendly and accommodating?
Absolutely, yes. They were outstanding.

2. Was the yacht comfortable and clean?
Yes.

3. Was the yacht well ventilated?
Yes.

4. Was the food good and well presented?
Yes. The food was amazing.

5. Did you like the area you sailed?
Yes. It was fantastic.

6. Additional comments on your charter?
Sy and Kara Hubert made our charter experience truly amazing. They are genuine hospitality professionals who care about every detail and who continually strive to improve their craft. My family rated this experience as our best-ever trip. The USVI's waters were pristine, and our experiences hiking and snorkeling was better than we expected. What elevated our experience from great to exceptional was Sy and Kara. They are fun, engaging, interesting and they catered to our every need. We highly recommend the Hubert's!
SY & KARA
The Hubert's were amazing right from the start. They were laid back enough to allow us to do what we wanted but take charge enough to keep us on track. We can't imagine a better curated experience.

Captain Sy made us feel completely safe. He certainly knows what he's doing at the helm. (Kara is close behind) The boat was always clean and tidy.

The food was spectacular! Every meal was better than the last. A truly decadent experience.

We would highly recommend this boat and crew. You won't regret it!

Sy and Kara are hands down the best crew in the Caribbean on any boat!
SY & KARA
Wow! What an amazing experience! I cannot imagine taking this trip with any crew other than Sy and Kara. Sy was a a master captain, explaining every part of our trip and answering all of our logistic-related questions with ease. He remained flexible throughout and was sure to cater to all of our needs. Kara was an excellent hostess. Our hands were never empty - whether it was a refreshing water, juice, or craft cocktail, she does it all! Kara was excellent company on board while still managing to be professional and service all of our needs. Additionally, I cannot rave enough about the amazing food on our charter. Both Sy and Kara made impressive meals and I never left the table hungry. I appreciate their willingness to accommodate my somewhat limited pallet and love that I got to try so many delicious new things! I have never been so well catered to on any trip. Sy and Kara were absolutely exquisite hosts and I will recommend that everyone I know book a trip with them in the future.
SY & KARA
Sy and Kara's professionalism and genuine care in providing for an outstanding vacation showed throughout our week together. They are truly talented in so many ways. Cuisine, activities, discoveries, snorkeling, water sports, hiking, cocktails...all exceeded our expectations. They work so well together as a team, and they bring genuine enthusiasm to everything we experienced throughout the week. One of our best family vacations ever!
SY & KARA
This was my first charter experience. The Huberts were warm, professional, and very knowledgeable. There was not a question they did not answer and I greatly appreciate their patience and instruction with things that were new to some of us. I enjoyed the confidence and calm they exuded and I knew we were in "good hands". I could sit back, relax and enjoy the trip. I appreciated the historical information about the places we passed and touched. It was not only fun but informative. Great trip!

SY & KARA
Name: Carol
Yacht: Easir II with Sy Hubert & Kara Bellemente
Charter Dates: 05/15/2021 to 05/19/2021
Area Cruised: St. Thomas - USVI
Overall Rating: 5/5

1. Was the crew friendly and accommodating?
Exceptional crew

2. Was the yacht comfortable and clean?
Very very comfortable

3. Was the yacht well ventilated?
Yes

4. Was the food good and well presented?
Excellent

5. Did you like the area you sailed?
Amazing!

6. Additional comments on your charter?
Sy and Cara are the most amazing couple and most gracious host. We feel like family and plan on requesting them specifically in the future!! You could not have asked for a more perfect vacation! They were amazing. This is the second time working with our broker who was also outstanding. Thank you all ! Outstanding, highly recommended!
SY & KARA
Sy and Kara could not have been better. They were professional, fun, accommodating and very knowledgeable. They made the experience outstanding. The care and efforts that they both put into making our trip amazing is truly appreciated. We loved them so much that we booked another trip with them. I highly recommend booking with them and want to thank them again for all of their efforts to make us feel comfortable and pampered beyond our expectations. Nothing was ever too much of an ask and they both went out of their way to make every day a wonderful experience. THEY ROCK!

SY & KARA
We had the best vacation! So relaxing and easy. Sy and Kara were so enjoyable to be with. It was easy, fun, delicious and just an overall great trip! The kids loved spending time with Kara snorkeling and with Sy doing water sports. We have already referred them to several friends! Can't wait to do it again!
SY & KARA
Kara and Sy provided our family with an amazing family holiday experience, so much so that we all came away from the trip saying it was the best trip ever. From the first time we met the pair on a zoom call for pre charter, to the last day when we were able to take advantage of their incredible hospitality Kara and Sy were nothing short of exceptional! The boat was immaculate, and this crew took care of our every need, they entertained our 3 kids everyday with activities whilst also reaching a high standard of service which included serving up spectacular meals that met with approval from everyone! I can't recommend Sy and Kara with high enough regard, they are now part of our extended family!
SY & KARA
Everything was fantastic! Our hosts were amazing! Every meal, experience, activity, conversation, EVERYTHING, was top notch! We have referred them to several people since we got back from our charter.

SY & KARA
Sy and Kara could not have been more welcoming. They both went above and beyond making sure all our needs, as well as our wants, were met. They were knowledgeable, caring, and fun. Sy and Kara wanted us to have the experience of a lifetime, and they did everything in their power to make sure we were happy.
SY & KARA
Shhhhhh, don't tell anyone, the Hubert's are the best hosts and have the best charter on the USVIs. We don't want them to become so popular, they'll be booked the next time we want to go sailing. Every aspect of being on the boat with the Hubert's was a 10+. The boat was clean and thoughtfully appointed. No detail was missed. A basket of personalized snacks, fresh basil and herbs, a stocked bar, and exceptional food. They took a genuine interest in all the guests, adults and our children. Snorkeling, fishing, tubing, sub winging, card playing, board gaming were all part of the daily agenda.....all while providing three incredible meals a day - along with mid-morning and afternoon snacks. Their response to any question, need or request was always "yes" - now what was your question? Whether on the boat or in the water, I felt my children were safe and cared for at all times. We couldn't have asked for a better vacations.
SY & KARA
The Huberts were everything we could have hoped for and more. Their enthusiasm, their knowledge, their food, their spirit and their generosity of time and attention to everyone, including the 10 and 12 year old boys, was exceptional. Though they asked repeatedly about how they could be more accommodating, they left us wanting for nothing. The entire charter was a pleasure from start to finish. I felt relaxed, safe and sated with service and sunshine. I would do it again tomorrow and recommend the Huberts highly for anyone lucky enough to spend time in their company.
SY & KARA
"You know a vacation was good when you get back to regular life and find yourself daydreaming and longing to be back from whence you came. But, if you are lucky enough, you may take a vacation that causes you to question your purpose...your very existence...and whether what you have been doing your entire life was even 'living' at all. For there, on the Easir II, we learned to really live. We relaxed, we adventured, we enjoyed. Sy and Kara were the perfect guides on our journey to discovery and will be lifelong friends. They taught us to swim with the creatures of the sea, fed us food meant for kings and queens, and filled our cups to overflowing with the sweetest, painkilling concoctions. And everyday since we have been home, we have considered selling all and finding our way back. This was an experience we will never forget."
SY & KARA
"The entire family had a wonderful time with Sy and Kara. They were very communicative of what were to expect for the days events. And very willing to execute what our particular wants/needs were for each day. We found them very respectful of our space and family private time. Very attentive to our food preferences. Took the time in planning and preparing of meals. Sy is an excellent cook and Kara's afternoon cocktails along with spread was always a delight."
SY & KARA
"I cannot say enough about our amazing week with Captain Sy and Kara aboard the beautiful Easir 2. This was easily the best vacation of our lives. My wife and I traveled to the Caribbean many times on cruises and at all-inclusive resorts but we have never had a vacation like this. Sy and Kara were incredible hosts and all around awesome people who exceeded our expectations in every way. We had an absolute blast snorkeling, free diving, hiking, sailing, fishing, paddle boarding, knee boarding, riding the sub wing, and especially eating. This was also the perfect covid vacation since we were completely isolated from people outside of our group. We will be back very soon!"
- Chris
Sneed Yacht Charters.